The Spitsbergen

The trip
From 4 to 23 of may 2017
Spitsbergen is the main island of the archipelago of SVALBARD. These mountains are floating on the Arctic Ocean between the Arctic Circle and the North Pole. It is the time of the midnight sun, the day is permanent.
In this huge space for solitude, silence and light come to nest colonies of migratory birds that feed on a rich sea. Endemic reindeer, silver fox and polar bear occupy the coast and inland, transhumance in favor of food resources. Walruses and seals amphibious basking on the ice.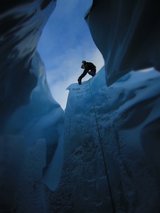 We will leave from the ice at the foot of the falls of seracs where "calving" glaciers plunging into the sea. We cross the wide collars that connect easily accessible glaciers rimmed ski peaks. From the top the view is unforgettable, of exceptional magnitude, a wonder.
In this white desert, throughout this journey will be a continual change of scenery, an emotional shock.
It is no coincidence that we persist with such enthusiasm, for 20 years, to guide you in these polar regions.

Level: This is not a classic hiking, we must live in complete autonomy, and it should be considered as a polar expedition.
This Nordic trip is for all those who do not fear the cold, isolation and camping on snow. If we have to prepare for difficult conditions we will also have long periods of good weather with pleasant temperatures.
We will move from a camp to another by taking our "pulk" loaded with provisions and equipment. This practice is much less tiring than carrying a heavy bag. During these travel, the slopes are generally gentle and pulk glides well behind us, uphill and downhill. Not monotonous journey, the landscape changes quickly and short technical sections are the occasion to popular entertainment. We will go back and spend vast glaciers collars to access other glacial regions.
During the routes or from the bivouac, we will go to the top of the most accessible ski mountains to discover the scale of landscapes. We will do the back and forth with a light bag. The snows are mostly very good to ski.
Rates:
Photos
More informations

Contact us
Contact us on our website or by email : guides.laplagne@gmail.com

Contact the guide
Frédéric le Moullec : fredlemoullec@gmail.com - +336-11-98-43-73

Brochure2017
Download brochure 2017