Climbing


Practice rock climbing on one of the many rock walls in the Vanoise region.
Rock climbing for children: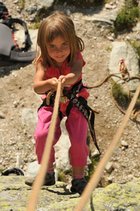 These lessons are ideal to teach children how to climb on easy rock walls specifically set up for them.

Rock climbing for Adults:
Discover this activity or improve your technique during three hour lessons which take place on the Arpette or The Bourtes rock walls.








Rock climbing on cliffs:
Try lead climbing, learn safety rules and reach a summit after several lengths of roped climbing. You will climb in groups of two people maximum on one of the following cliffs: Le Pilier des Bourtes, La roche de la Tomme and La falaise de Séloge.
The highest climbs:
Climb a new summit in groups of two in one day:
- La Pierra Menta 2714m, La Nova 2893m,
- L'Aiguille de la Vanoise 2796m
- The Mont Pourri (South face).
Pictures
More informations

Contact us
Contact us directly with our website or by email: guides.laplagne@gmail.com