Ski touring raids

To discover the ski raid program for 2015/2016 season click there
Presentation
Several days ski touring going from one mountain hut to another, following an itinerary, far away from any ski lifts. This sporting ski holiday will get you out into the wilderness and give you a great sense of discovery and accomplishment.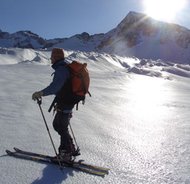 The Alps, the perfect place for this sport, has chains of mountains where we open up uncountable routes, each more beautiful than the previous. Improved equipment and the building of mountain huts allows us to hike with lighter rucksacks and better appreciate the pleasures of both the effort during the climbs and the thrilling sensations of the descents.
To take part in a ski touring raid it is necessary to learn how to ski off-piste and how to ski with touring skis. Routes are of various difficulties and we can take you on those best suited to your level, so you can learn and improve gradually.
Ski touring raids are one of the best mountain activities, but wild areas require learning and experience to make the most of mountain's wild, natural beauty. Our team proposes 4 types of raid that you can chose according to your level :
Ski raid in star
It is a ski raid on several days but with staying at the same refuge. The advantage is to ski with the minimum of material and no heavy luggages.
Ski raid in half-star
Nearly the same formula than the last one but we also propose to change the the refuge during the raid
Itinerant ski raid
The base of ski raid. We will start from one point and travel at ski to a destination. Our route will use different refuges. Chamonix-Zermatt is a good example of this kind of ski-raid.
The half-itinerant ski-raid
It is a mixture between the Itinerant ski raid and the Ski raid in Star
Ski raid 2015-2016
dates
Routes
Difficulty
Type of raid
Country
Links
3/4 december
10/11 december
17/18 december
First snow
In star
France
details
from 05 to 08 of january
Surprise 2017
In star
France
details
from 13 to 15 of january
Arêches
In star
France
details
from 08 to 12 of february
La Fouly
In star
Switzerland
details
from 05 to 09 of march
Carcoforo
In star
Italy
details
from 11 to 17 of march
The Stubai
half itinerant
Austria
details
from 20 to 23 of march
The Mont Thabor
In star
The Massif des Cerces
details
5/12 april
12/1 april
17/25 april
First snow
In star
France
details
from 02 to 07 of may
Surprise raid
Surprise
The Alps
details
Travels in ski 2016-2017
| dates | Routes | Difficulty | Type of raid | Place | Liens |
| --- | --- | --- | --- | --- | --- |
| from 25 of march to 1st of april | Norway | | In star | Lyngen | details |
| from 8 to 15 of april | The Lofoten islands | | In star | Norvège | détails |
| from 04 to 23 of may | Spitzberg | | expedition | Oscar 2 Land | details |
Pictures
More informations

Contact us
Contact us directly with our website or by email: guides.laplagne@gmail.com

Brochure2016
Download brochure 2016